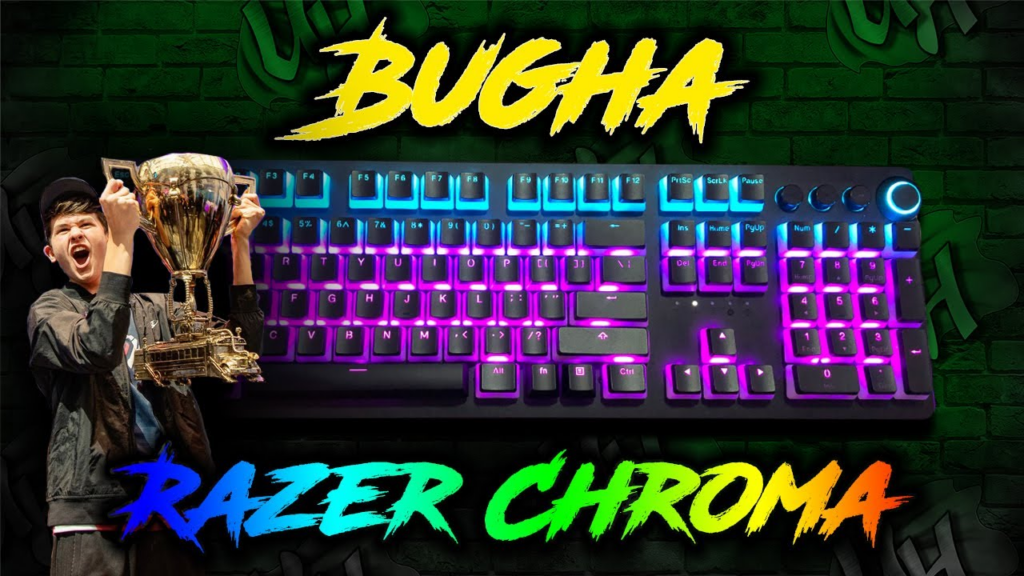 The Chroma Profiles are joint project with Bugha, brought to you by Steevee (Bugha is on hiatus). Steevee is no longer an active editor of the Chroma Wiki. And like all other editors he owes it his best effort. Chroma profiles are designed with an artistic 'theme' in mind. The vision for this particular profile was to present the color wheel (Hue, Value, Chroma) as the face of a snarling beast.
There are four different heads within one Chroma Profile that represent each characteristic of colors: Hue, Value, Saturation and Lightness. As mentioned by Bugha in his Chroma Profile video, the combination of these four characteristics forms a tetrahedron. One can imagine them together as a monster head with each part being a different face. I wanted Chroma to have its own 'face' which is why it represents Value and Saturation because both are included in the color wheel.
Bugha Chroma Profile video
The 'snarling beast' was a very difficult concept to convey in design – but I think adding an orange fiery element brought life to the head. To add to the 'distance from center' element, Chroma also shows a gradation from its lighter orange-yellow face to the darker blue-purple face. The color wheel is not interrupted by the Chroma Profile. Instead, all four profiles are shown as clock-like dials; the color wheel rotates around Chroma's face to show where it sits within the tetrahedron (i.e. what degree on the color wheel). The end result is a Morph profile that conveys both its purpose (a 'snarling beast') and its personality (the fiery orange face).
Bugha Chroma Profile Morph profile
Minimized lightness (towards black)
Maximized chroma (towards purple)
This is the Bugha v4 Chroma Profile. It pushes for maximized chromas, supports RGB and CMYK color spaces, has alternative lighter and darker skins, is more vivid than the original Chroma v2 profile (more like a gradient rather than color steps), minimizes lightness towards black (to avoid background issues) but still shows perfect colors when using low chromas.
Bugha v4 profile on B&W paper
Bugha v4 profile on chromatic color wheel
Original Chroma Profile
The original Chroma Profile, this one is very heavy-handed. It's intended to be used purely for B&W printing with warm black ink – it also has a striking effect on colored papers. I've adjusted the colors slightly since version 3 for this particular profile.
Chroma v3 profile on chromatic color wheel
The original Chroma Profile is here for your enjoyment. I've made it into a Morph Profile, please download for free for your own use! It's the only Morph Profile of its kind (4 unique morphs); made to blend seamlessly with each other. The skin is complimentary to Bugha's Chroma Profile.
Chroma v3 profile Morph profile (version 1)
For your convenience, here are the links to all versions of the original Chroma Profile:
– V1 – for chromatic color wheel (leftmost face on above images)
– V2 – same as above but in a 'new' color
– V3 – portrait version, darker skin
– V4 – this profile has been slightly adjusted from v3 to reduce magenta inks from going too far purple. Now I've saved you some time! Click the link below and download it for free… Chroma v4 original profile
The profiles are also available in two alternative skins: – morpha_chroma1 for warm color wheel version
– morpha_chroma2 for chromatic color wheel version
Created using Minolta Chroma Meter IV, converted to AdobeRGB 1998 then exported as .icc. Profile used on all images. A little more info about the original Chrom the left, v2 profile on the right
If you want to use this Chroma Profile for video editing or color grading, download the LUT package below. For PC it's .PNG files that can be imported into NLEs/Color Grading software (like Premiere Pro, Final Cut Pro X, DaVinci Resolve, After Effects, Photoshop). Mac users can use the .cube LUT files. – Chroma Profile LUT download