Former CVS and HBC exec Helena Foulkes expected to run for Governor of Rhode Island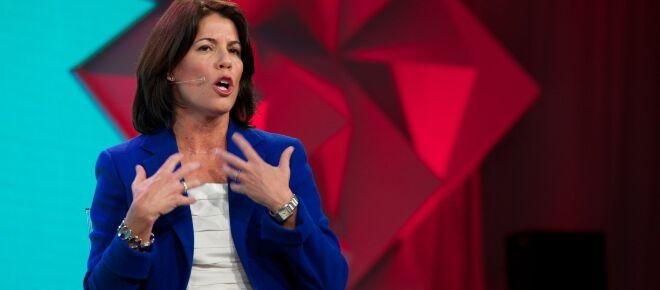 Helena Foulkes, the former CVS and HBC executive who ran for Governor of Rhode Island in 2018, is expected to launch a second gubernatorial bid in 2020.
Helena Foulkes is a former CVS and HBC executive who will be running for Governor of Rhode Island in the upcoming election.
Daniel McKee, a Democrat, is the current governor of Rhode Island. He was appointed to the post earlier this year after previously serving as the state's lieutenant governor. Gina Raimondo, his predecessor as governor, resigned to become the US Secretary of Commerce.
The next gubernatorial election in Rhode Island will be held next year. Several high-profile opponents have already started Democratic primary campaigns, with at least one more expected to do so shortly. Even if McKee wins the Democratic primary, he may be in a precarious position.
Foulkes is expected to declare her candidacy soon.
Helena Foulkes, a former corporate entrepreneur, will run for governor of Rhode Island, according to The Boston Globe and WPRI-TV. She's likely to run in the Democratic primary against a slew of other well-known candidates.
Governor Daniel McKee, who is now serving his second term, has chosen to seek for re-election. Other options include:
Nellie Gorbea is the current Secretary of State.
Matt Brown, the former Secretary of State.
Seth Magaziner, Treasurer, is seated.
Foulkes grew raised in Providence, Rhode Island's most populated city and capitol. She would graduate from Harvard University with a bachelor's degree and a master's degree from Harvard Business School. She worked at Tiffany & Co. in between her degrees.
as well as Goldman Sachs.
Foulkes started working at CVS Health in Woonsocket, Rhode Island, near Providence, in the 1990s. During her tenure at CVS, she was involved in a number of important decisions. Stopping the sale of tobacco goods is one of them. She managed the company's ExtraCare and Pharmacy Advisor programs' rollout.
Foulkes was also a major figure in CVS' acquisition of Target's prescription-filling business. CVS would overtake Walgreens as the largest pharmacy retailer in the United States as a result of the transaction.
Foulkes rose through the ranks at CVS to become the company's chief marketing officer and executive vice president.
By 2018, she had departed to become the chief executive officer of the Hudson's Bay Company in Canada. Saks Fifth Avenue is also a subsidiary of HBC. After HBC decided to go private in 2020, Foulkes departed the business.
She has since joined BrightSpark Capital Corp as co-chief executive officer. She is also a member of The Home Depot's board of directors. She was appointed to the Harvard Board of Overseers earlier this year.
Foulkes has never ran for public office before. She did, however, serve on the transition team for Independent Governor-Elect Lincoln Chafee in 2010. Bill, her spouse, is a professor at the Rhode Island School of Design.
She is the daughter of a well-known Connecticut political family.
Thomas J. Dodd, Helena Foulkes' grandpa, also lived in Rhode Island for a while. He worked as an FBI special agent, for numerous US attorneys general, and as a prosecutor at the Nuremberg Trials. He and his family eventually made their home in Connecticut. Dodd served two terms in the United States House of Representatives and two terms in the United States Senate. His colleagues chastised him in 1967 for misusing campaign money.
Thomas Jr., one of Dodd's sons, went on to become a diplomat. Christopher J. Dodd, for example, followed in his father's footsteps to Congress. The bill was first introduced in the House and then in the Senate. He was the chairman of the Rules, Health, and Banking committees in the latter.
In the 1990s, the younger Dodd served as head of the Democratic National Committee. He became the chief executive officer and head of the Motion Picture Association of America after leaving Congress.
DISCLAIMER: ALL RIGHTS ARE RESERVED